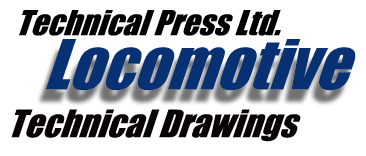 The Artist
Bill Berkompas developed a love for steam locomotives at a young age. When he wasn't playing with toy trains, he was watching the real thing go by! He still remembers the day, around 1955, when the C&O took about half a dozen Pere Marquette 1200s to New Buffalo, Michigan, on the tracks that went through his backyard!

In the early stages of Bill's mechanical training, honed his skill using trains as subjects. In 1965, he completed a rough drawing of the famous Union Pacific "Big Boy", and others soon followed.

In the early 1970s, while a draftsman for Consumers Power, Bill drew the Pere Marqutte Engine #1225. The final details were added as he worked at a card table and chair just a few feet away from the engine at Michigan State University, where it was being restored. Bill donated the drawing to the 1225 Restoration Club, and lithographic prints have been sold to raise funds for the project ever since.

In 1981, Bill devoted himself even more thoroughly to the technical steam locomotive art. He resurected and updated earlier drawings to match other engines under restoration. The C&O Greenbrier became #614 to match the engine returned to excursion servce in Huntington, West Virginia. He also created a drawing of the Norfolk and Western J class became #611 now in Roanoke, Virginia.

Bill has completed expert drawings of twenty engines, in all; but the list of engines he would LIKE to do keeps getting longer. He would also entertain requests for diesel locomotives and special commissions.

Bill works for Consumers Energy as a fleet leader and warrenty administrator for their Central Fleet Operations located in Charlotte. In 1997 he celebrated 32 years with the company.

About The Artist | About The Trains | Art Shows | Home Page| Send E-Mail
Contents ©1997 Technical Press Ltd., Charlotte, Michigan